Enjoy an evening with family or friends on a horse-drawn sleigh ride through a local Wyoming Ranch and take in the views of over 1,800 head of elk and picturesque mountains. Guided by real cowboys, ready to entertain you with their tall tales and provide a true western experience. End the night warming up with a world famous, T-bone steak dinner in the lodge.  Additional meal options available. Transportation not provided. Closed Sundays, Christmas Day and New Year's Eve.
72 Hour Cancellation Policy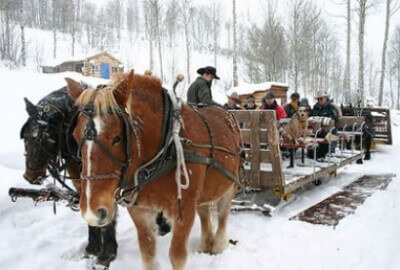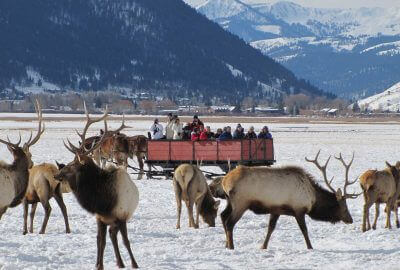 Sleigh Ride in the National Elk Refuge
One of the best tours offered in the Jackson Hole area during the winter! Starting off at the Jackson Hole & Greater Yellowstone Visitor Center across the street from the Rustic Inn Lobby, you will be taken by bus a few miles up the road and loaded onto large horse-drawn sleighs. A knowledgeable guide takes you through the National Elk Refuge to get up-close-and-personal with thousands of elk that have migrated from their summer ranges for the winter season. Between the proximity of the elk and the beautiful mountain views, a camera is a necessity on this tour. This hour-long trip onto one of America's premier wildlife refuges is great for everyone of all ages! Rides are offered daily from 10AM-4PM. Closed on Christmas Day.
48 Hour Cancellation Policy
$30 per Adult
$15 per Child (ages 5-12)
Children ages 4 & under are FREE